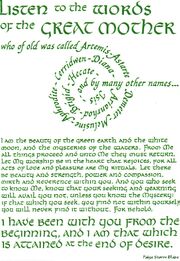 More RP Fighting Etiquette 

Rule #1: No more than two posts for any one action in a fight. There is no reason to do more than two since any one action that takes more than that is most likely a god move and therefore invalid to begin with. 

Rule #2: Magic should be used sparingly. Magic also has to be prepped for each spell cast. Prepping takes several posts but they must not be followed by more because the posts require time given to anyone else. The longer you prep your spell the more powerful it can be. If you are distracted, though, you lose the spell. Magic is best used by people who can type fast since they can hit enter on their first post and write their second post fast before the enemy has time to write something as well. 

Rule #3: Portalling. You cannot vanish and appear in the same post. They must be at least a post apart. 

Rule #4: Shape Shifting. You cannot shift form AND attack in the same post. They must be at least a post apart. 

Rule #5: Remember, an attack post must say "at" or "towards" and doesn't actually hit (that's an auto). It should be at least 5 words (preferably more than that). Dodges are invalid if they are under 5 words and must make some form of sense. 

Rule #6: Grabbing someone in a hostile manner (in attempt to throw, kidnap, etc) is an auto... you have to GRAB FOR and it must be at least 5 words. 

Rule #7: NPCs. Non player characters can be killed by autos as long as no one is in direct control of them. Direct control of NPCs is limited to about 3-5 at a time (this can include pets, monsters, dragons, soldiers, etc). 

Rule #8: You cannot attack twice in the same post. You shouldn't combine the casting of a spell and weapon rush at someone, and you shouldn't use more than one weapon in the same attack. Combination attacks can be seen as unfair and in the event that they are used, the same consideration for the number of attacks used should be granted to your opponent as well, to be used in the following post by your opponent. The same goes for magic spell... you can't cast two at once! you need to prepare them individually... don't forget rule #2. 

Rule #9: This is not really turn based in the sense that "you can't post till the other posts". Here's how it works. If you posted an ATTACK you have to wait for your opponent to post before you can post again... but if you posted a defense... or what not... you can put in another post for an attack... prepping.. landing... or what not. It's only after an attack that you have to wait to post. This can lead to an attack and a non defense move clashing... if you post a move while your opponent is attacking and your opponent gets that post in before you get your action. You're may find yourself hit by the move they made, so it can be dangerous.