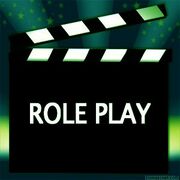 Introduction from the owner
I posted information on how to RP = Role Play . There is many reasons I had done this and that is because many have taken RP- to their own style or rules, many take other RP styles such as DND (Dungeons & Dragons) and turn it to something not consisting of the real meanings or terms set forth. Many has placed them in to chat programs basing them on the RP creators own terms or rules. RP is RP and no matter what style you use, all fair gaming should be a part to all RP, somewhat to the realization on realistic terms or else it's a cartoon or comic book fantasy. Many whom RP as gods think gods don't die, yes they do I'm sorry but your portraying a cartoon fantasy when you do such or think that's impossible.
Your realization is not to the standards of the RP or real life behind that type of character to that role play; I play mother earth and a golden dragon goddess . I Role Play according to the story of (Gaia Mythology) the earth mother, meaning earth herself, and what many have heard about a Golden Dragon based also on Mythology Standards.
In some cases many make a twist by changing or using a character name as the person or story line character to the person of that Role, it could be a movie Character or it could be a Character based on events that reflect our way of life they are acting out to be.
My Character in Role Play
I'm Gaia as my Character far as mother earth goes she had many names knew as ISIS , Diana , Brigid , and many other names. I am Paige a Charater knew in the show Charmed I'm a Re-Born goddess to a mother, whom was given the gift to have earth reformed to be human again within herself and many other forms knew to come later throughout her life. Gaia as paige was brought back to reclaim her lands once again after many had tried to kill her off as knew to being Gaia.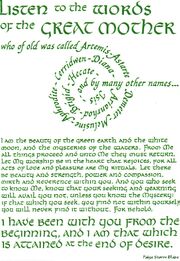 Introduction - to RP 101
Ok first things first. I do not rp seriously anymore not like i did back in the begining of the 80's, I don't know if I will be in the future but I might. alot of this rp is based on text based ony in a chat program and mostly on imvu from the start of beta of imvu 2003, then also did the same in secondlife, nothing like text based and action using a hud, to simlply have a fast reaction to an rp in a game mode it was enough for graphics. magic power was used more so in secondlife then in basic rp of text para t1- t2 combat style of fighting. 17 years or so now i still make my way to imvu,
If any of you ever -do- catch me in character, the rp I'm involved in (if any) isn't serious. In any case, this is here to help you role players out there. I've been roleplaying online for 10, to 13 years starting with msn and yahoo groups now in IMVU and while that does not make me an expert nor the best rper out there
(I can point out many that are much better than me, and have rped less years than I)
I have noticed several no no's that have spread across chat sites and rooms, no matter what setting or theme it is. So, herein will be posts of faults and helpful (hopefully non-offensive) advice to you 'newbies' and such.
Introduction 2 – The Silver Spoon
Erk...Also, most of these no-no's are mostly collected from my OOC (out of character) ventures. They also may be drawn from my own experiences, as I can admit, I've probably made quite a few mistakes myself. Anyhow, enjoy!
RP 101 Presentation
Okay, let me stray off topic a little bit now. The subject is still related to roleplaying a bit, not directly like the other topics I've touched upon. That's right. The presentation of your posts. Now, before you tell me that "what's inside the post is what counts" .. I know that. I know that this isn't one of the most important points of roleplaying. But here's a question: What if no one can understand your posts? I have read posts that are so hideously deformed in presentation that I had toguess at what the typist was trying to say. At times
I even had to ask the typist what they meant. Needless to say, that was a lot more work than some other rps I've been in with much more complicated plots. The point of fact is that roleplaying is not only about the individual Its about the Charater -- there are very few things in this world that are only about the individual -- and one should be somewhat mindful to the comfort of others. And I do not mean using a bigger font either. It is fine if the chatting is OOC among friends to use abbreviations and "net-speak " .. I am quite confident that everyone in that group is able to understand everyone else but in RP there are many people that may want to read and join in, in an RP but if the posts are hard to understand (eg: TyPiNg LiKe ThIs or using the same font colour
as the background, etc.) then it would be much more simple for people to skip over the bothersome posts and move onto someone else's rp that is easier to read.
Again, it's what the message inside the posts that count. Someone may have
a great idea but if their posts are so hard to read, no one is going to pay
attention to them and their idea will be wasted. Let me just say that I am not targeting people who've made the occasional typos or gramatical accidents. I do them all the time when I'm typing. I'm pretty sure you can find a couple in this post even.
Who I am targeting are people who pay absolutely no regard to the presentation of their posts. Spelling/grammatical errors that a five year old makes; typing in the background colour so people have to highlight your post to read it; ambiguous messages caused by poor thought to the message .. etc. etc. etc. A little spelling/grammar lesson and some attention to their posts goes a long way .. especially when posts are over three or four lines long each. A little suggestion because I know some people may come to me saying it is hard to see the whole post in that little text line they give us: Open up a document program like word and type your post in there then cut and paste it onto the text line. You'll get to see your complete post at once and, depending on which program you use, you can check your spelling and grammar at the same time. This will free up some typing time in your rp so you can ask questions that may come up while you're writing your post, chat, etc. It gets a little getting used to, but I think it is worth it to at least try it for a while.
An example entrance below for future reference In our chat on IMVU. We get invites to an RP moment or shall I say an RP all are in together but are in separated stages.
This is an entrance consisting on a invite look how it was written
Being called upon from below to the heavens
- Being called upon from earth a call to summon Paige in the heavens above, she answers and makes her way to the summoned call. the earth shakes as clouds form with darken streaks and lighting, the beams of light and dark begin to fade from clouds forming with lighting surrounding the lands, the clouds look as if they are lowering within the realm, were Gaia as Elder Paige Stormblade the Grand High Elder to the Stormblade family knew to many as a Greek, approaches the realm below. Many can hear the heavens ring from the sounds of the clashing thunders. As a mist becomes in the formation taking a shape, many among can see a forming image of a woman lowing to stand upon the ground in the form of Gaia herself, with green long flowing hair, green eyes and the outfit is of earth. The woman's image is the image of Gaia mother earth and knew as nuwa the golden dragon; standing firm smiling to the people were she had seen them settled approaching from above. The woman stands strong, and firm with a tall slender body looking upon the races she's approached, her hair blows as the winds of the storm settles, she glances at all with a smile and begins to speak- "hello" " with an excided emotion on her face from her expression as she speaks "How are thou on this day and night?"-<c>
Now Note the <c> this is to tell the next person it is their turn to respond in a cycle, meaning that as i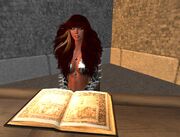 entered the realm, I have started the RP after entering. Now I have moved the RP move on to the next person. Now it also could have a reply from not just one person but from many in the same chat.
As you see below is another entrance in ties to my connection being of Mother Earth my sister the element of earth makes her entrance.
- Being called upon the body of Gaia earth, a call to summon Ruby the element of earth body of Gaia, answers the summon and makes her way to the summoned call, the earth rumbles giving an earth shaking' as clouds form with darken streaks and lighting, the beams of light and dark begin to fade from the clouds forming with lighting surrounding the lands, the clouds look as if they are lowering within the realm were Ruby a High Elder to the Stormblade family knew to many as Greek, approaches the realm. Many can hear the heavens ring from the sounds of the clashing thunders. As a mist becomes in the formation taking a shape, many among can see a forming image of a woman taking shape, standing upon the ground in the form of a human, with royal dressings and long flowing hair. The woman's image is the image of human knew as Ruby The body knew as the Earth Element to our great mother earth, and nuwa the golden dragon; standing firm smiling to the people were she has seen them settled approaching from the earth colored mist that formed. The woman stands strong, and firm as a heavily pregnant body, looking upon the races she's approached, her hair blows as the winds of the storm settles, she glances at all with a smile and begins to speak- "hello" " she greets them "How are thou on this day and night?"-<c>